Construction Lawyers in Montreal
Are you looking for a construction lawyer in Montreal? Take advantage of the specialized legal services of the Azran Lawyers firm. Our advanced expertise in construction law cases allows us to vigorously defend your interests before all judicial bodies in the construction field.
The expertise of our lawyers in construction law
Our specialized team of construction lawyers at Azran Lawyers stands as a steadfast legal cornerstone, consistently devoted to skillfully and efficiently advocating for your interests. With a bilingual construction litigation lawyer from Azran Lawyers at your side, your rights and concerns are assured of robust protection.
From the meticulous drafting of construction contracts and commercial leases to navigating contract terminations, our adept team employs the most appropriate legal strategies tailored to your circumstances. Central to our firm's mission is providing you with the services of a construction attorney in Montreal who centers your interests as a paramount consideration.
With an amassed experience of over thirty years encompassing real estate law and allied construction domains, we excel in providing effective legal counsel. For unparalleled guidance, opt for the Azran Lawyers firm in your quest for the finest construction lawyer in Montreal. We take pride in offering our expertise to furnish you with superlative legal advice.
Construction project: support from a construction lawyer in Montreal
Whether it is in terms of professional liability, such as that of the architect or major contractors, or for the registration of legal hypothecs in the construction industry, our lawyers specializing in construction law will be able to preserve and protect your rights, whatever they may be. We will be able to meet your needs to your complete satisfaction.
Legal hypothecs
Guarantee deposits
Construction defects
Faulty work
Flooding
New home warranties
Negotiation of contracts and drafting of agreements
Professional liability (engineer, architect, contractor, technologist, surveyor)
hidden or latent defects
purchase without legal warranty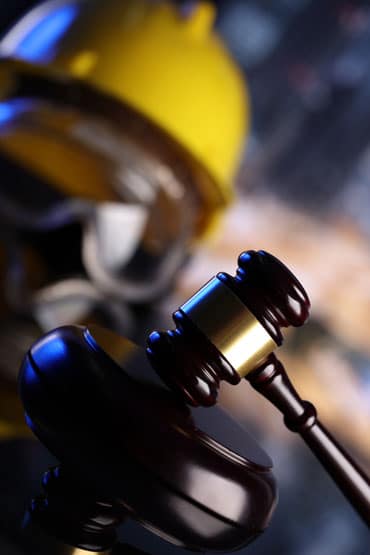 What are the possible disputes in a construction project?
Construction projects are large-scale projects that require the intervention of a large number of professionals. General and specialized contractors, material supplier companies, clients, and several others share liabilities during and after the execution and receipt of the project.
Determining who is responsible in the event of a construction dispute is therefore quite complex. This is when having a lawyer specializing in construction projects by your side becomes very important.
Trust our construction law firm in Montreal to defend you in the event of a dispute. We will defend your interests in the event of faulty work, hidden defects, or construction defects, and with your commercial contracts and leases.
What are the possible remedies?
The remedies vary according to the dispute. Discover your options thanks to our construction law firm.
Construction attorney in Montreal: faulty work, hidden defects, and construction defects
For faulty work, you have one year following receipt of the project to assert your rights. In the event of hidden defects, you have three years after becoming aware of the latent defect to seek compensation.
What should you do in the event of a contract or commercial lease dispute?
To assert your rights, consulting a lawyer specializing in construction law is the wisest decision. The complexity of these disputes makes the intervention of an expert of all the legal aspects necessary in most cases.
Entrust the drafting and negotiation of your real estate contracts to the specialized lawyers from the Azran Lawyers firm. Keep your peace of mind by knowing that your interests are protected.
What guarantees can you benefit from?
Contractors frequently offer legal guarantees, such as the guarantee plan for new residential buildings and the license security.
The guarantee plan for new residential buildings protects you from your contractor's breaches of their legal and contractual obligations. When contractors do not fulfill their contractual obligations, you can also use the license security with the Régie du bâtiment du Québec.
Why be represented by a construction lawyer in Montreal?
Construction cases are delicate and complex cases. As the responsibilities are shared between various third parties, it can be difficult to determine who is responsible in the event of a civil dispute.
With the help of a specialized legal advisor, you are sure that your rights will be protected. Our firm offers you all the necessary legal services to ensure the protection of your interests thanks to our extensive experience. From the request for expertise to our professional representation service, we are here for you.
A construction expert
Our specialized construction lawyers have sharp knowledge with respect to remedies for hidden defects and construction defects, faulty work, and other types of disputes related to construction contracts and leases.
Simplify the legal proceedings by contacting one of our construction attorneys. We offer our expertise in the drafting, cancellation, negotiation, and interpretation of contracts in order to limit your risks in any real estate transaction.
Legal expertise
In addition to our expertise with construction cases and litigation, our multidisciplinary firm also works in related practice areas, such as real estate law and co-ownership law.
Don't hesitate to call on our Azran Lawyers firm. We will get back to you quickly to schedule a consultation with a bilingual construction lawyer in Montreal.
These articles may interest you
More on Construction Law
Coming soon